What is ModelTalker?
The ModelTalker System is a revolutionary speech synthesis software package developed by the Nemours Speech Research Laboratory and designed to benefit people who are losing or who have already lost their ability to speak. It allows people who use a Speech Generating Device (SGD) to communicate with a unique personal synthetic voice that is representative of their own voice.
To learn more, see the FAQ section under Help, or select an option under our Voices menu to get started right away!
News
1/10/18 — MTVR users Alert!
If you are an MTVR user who is actively recording, you may experience difficulty uploading speech, particularly calibration data, this evening between about 7pm and midnight US EST (GMT – 5 hours). We must perform some server maintenance during that time frame. You may continue to use MTVR for recording, but experience problems with uploading calibration data, which would only be necessary if you are having a problem with calibration. This maintenance should only impact MTVR users, and only with some uploads.
Sorry for any inconvenience!
12/21/17 — Happy Solstice! New features coming soon!
Whether your day is short or long, this is just a heads-up so you will not be surprised by some changes we will introduce in the near future. We have been working on some improvements to the online voice recorder to make it easier for you to review sentences that have already been recorded and keep track of which ones you might want to try to improve. Soon (possibly as early as next week) we will update the online recorder to show you a list of all the sentences you have recorded in a table below the recorder controls. You will be able to sort the list of sentences in a variety of ways and search for sentences containing specific content. There will be indicators for how optimal the recording is for amplitude, speaking rate, and pronunciation. And you will be able to listen to your recording, or select the sentence to rerecord.
12/8/17 — changes complete
We have completed making changes to the registration process. We have added a new registration category of "proxy" for people registering to provide a voice for a specific individual and simplified the registration process. Please let us know if you encounter any problems.
12/6/17 – Brief system downtimes
Our server team has warned us that there may be a period of 30 – 60 minutes tomorrow morning starting at around 8am EST (1pm GMT) where some services (e.g., downloads of Windows voice installers) are unavailable. If you are unable to download a windows voice, please try again later.
Additionally, we plan to have the ModelTalker.org website inactive for about two hours starting at 9pm US Eastern Standard time (2am, 12/9/17 GMT). The downtime will allow us to make a few changes to the website and registration process. Please avoid attempting to login during that time period.
Our apology for any inconvenience!
6/30/17 – Terms of Service Change Effective 07/01/17 12:01 AM EST
New registrations beginning Saturday 12:01 AM 07/01/17 US Eastern Daylight Time (5:01 am London; 14:01 pm Sydney; 16:01 pm Christchurch) for voice banking clients who want to create and download a personalized voice there will be a $100.00 USD fee to enable the download of completed voices. There will be no change for users who have registered prior to that time. At present, we are continuing the "no charge" policy for voice donors and for clinicians and those registering to learn about the technology so they can assist others. See our Fee Policy FAQ for more details.
6/1/2017 – Changes coming to our service!
For many years, we have provided ModelTalker voices to persons with communication needs for free as an adjunct to our research program. However, as demand for voice banking has grown over the last few years, it is no longer practical for us to meet the increased demand without offsetting staff costs. Consequently, for people registering and beginning the voice banking process after July 1, 2017, we will be charging $100 USD for users to enable download of completed voices.
If you are currently in the process of banking your voice, you will not be charged. Once we begin charging, the registration, recording, and auditioning process will continue exactly as they are now. However, after auditioning your voice, if you are pleased with the result, you will be charged to unlock the download capability. Once downloads are unlocked, there will be no restrictions on the number of downloads for different platforms and you will be eligible for voice upgrades if technology improvements warrant and if we have copies of your original speech recordings.
We will be updating our Fee Policy FAQ and other pages with more information about this change in the coming days, but wanted to be sure the word gets out as quickly as possible. Crucially, we are in discussion with a number of charitable organizations to determine what assistance they may be able to provide to users for whom this charge will be a hardship and will post more information about those opportunities as it becomes available.
5/2/2017 – MTVR update
We have posted a minor version update to the Windows MTVR program to correct several issues:
Changed a prompt that started with "Look like she…" to the more grammatical "Looks like she…"
Fixed a bug that sometimes created files with names like *.mp3.wav, which could then interfere with prompt playback.
Replaced some old references to "modeltalker.com" with references to "modeltalker.org"
Added Microsoft code signing to MTVR and its components so users will no longer receive a warning that the program is from an untrusted source. The developer will be listed as AgoraNet, Inc., which is the company that maintains our website and software.
Clinics using MTVR should update their software when convenient. Current personal or one-time users of MTVR do not need to update to this version unless they are experiencing problems that could be related to one of these issues.
4/6/2017 – Voice Auditioning
We are introducing a new feature that will allow users to have more say in the process of constructing their synthetic voice. In our lab, we create multiple versions of each user's voice and then test them to see which one seems best. Our final choice becomes the voice we return to the user. We have now set up a process where users can audition the multiple versions of their voice and help us decide which version sounds best to them. See Voices > Auditioning for more information.
1/19/2017 – Automating Custom Inventories!
Users often ask if they can send us some names and/or phrases to record as part of the voice banking process. It is now possible to create your own custom inventory to record along with our standard inventories for voice banking. At any time while recording your full voice banking inventory, you can select Session > Custom Inventory. This will allow you to enter some names and phrases that you especially want your voice to be able to pronounce correctly. Custom sentences generated from the words and phrases you enter will automatically be added to the end of your active inventory, ready for you to record before we build your voice.
11/26/2016 – New feature for assistance with voice banking
Many people using our site for voice banking are working with the assistance of a clinical specialist (speech/language therapist or pathologist) or a friend or relative. We now provide a CC email address on the registration form for people doing voice banking to designate someone who should receive copies of emails we send related to the audio screening process and voice completion process. Be sure to ask your clinician or other assistant if they want to be copied before entering their email address.
6/21/2016 – New registration features
We have shifted to a new, more secure, password scheme. If you lose track of your password, it will no longer be possible for ModelTalker staff to send you the password. However, if you have forgotten your password, you can now reset it via a "Forgot password?" link on the login page. Along with this change, we have added an Account page to the Registration Menu that will allow you to change your password when you are logged in. Soon we will add some more features to the Account page to let you update email address and other information.
5/10/2016 – New Microphone Setting
We have introduced a new feature in the online voice recorder settings that shows which microphone our recorder is using. Always connect your microphone before starting Chrome, and always make sure that your USB microphone is the one showing in the settings dialog box. There is some additional help you can access from the Settings dialog if you have trouble.
1/21/2016 – Support ModelTalker
Our primary research efforts are directed to creating natural personalized voices for children who are dysarthric and unable to do standard voice banking. Your donation to ModelTalker through the Nemours Fund for Children's Health supports that research, but it also helps us to continue to provide personalized voices to patients of all ages who have ALS/MND or another disease that can lead to loss of speech. If you or someone you know has benefited from our voice banking service, please show your support with a donation using the Contribute button on this page!
12/28/2015 – New Navigation and Registration options
The menus have changed on our website to improve navigation and make it easier for you to find what you need! We have also revamped our registration process. There are now three options for registering: Voice banking – the option for anyone who needs a personal synthetic voice for use with a Speech Generating Device or App; Voice donating – the option for people who want to donate a voice for others; Assisting – the option for clinicians and others who are assisting someone with voice banking. Unfortunately, we are no longer able to create free synthetic voices for any other reason.
12/21/2015 – New Features in the Web Recorder!
We have added a new feature to the web recorder that will make it much easier for users to review previous recordings and redo ones that had problems. In the Listen menu, choose recordings and you will see a list of all the recordings you have finished so far. Click on a sentence in the list and click the Listen button to review your recording of that sentence. Now you can also click the Record button to rerecord the sentence if you want to.
To further assist with navigating through the list of sentences as it grows long, the sentence number of each sentence is also displayed in the upper left corner of the center text display.
Important information on Logitech G430 microphones
We have recently encountered a number of users with Logitech G430 headsets who are experiencing problems with unacceptable microphone audio. This is a problem we have now also replicated in the laboratory on Mac computers, with the microphone input varying suddenly in amplitude. Our recommendation is presently to avoid purchase/use of the Logitech G430 for Mac users. We are not sure if this may also be a problem for Windows users, but it may be best to avoid that microphone headset entirely.
New Study on Speech Technology for Children with Cerebral Palsy
We are launching a new study as part of our Clinical Speech Technology Program! The goal of the study is to provide personalized synthetic voices to children with cerebral palsy and demonstrate the benefits to these children of having a voice of their own. For more information and details on participant recruitment, click here.
We are also actively seeking voice donors to build a synthetic voice with us that we can then personalize for a child with cerebral palsy to use in his/her SGD. If you live in the Delaware/Maryland/Pennsylvania area and have a child between the ages of 9-15 who would like to donate his/her voice, please email us for more information.
ModelTalker comes to the iPad
The UK-based company Therapy Box is working with us to bring this new technology to the forefront! Implementing ModelTalker voices into usable solutions is a brand new and unexplored field that has wider implications than someone just being able to use an app to communicate. Predictable 4 and ChatAble 2 will be the first iOS apps to utilize ModelTalker voices for AAC, greatly influencing the lives of those with communication difficulties. For more information about Therapy Box and these apps, click on the icons below.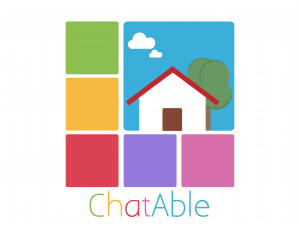 Support for Mac OS X
You can now choose to download your ModelTalker voice for Apple computers running OS X 10.5 or newer. Your voice will be installed as a system voice that you can select from the System Preferences Dictation & Speech control panel.
Support for Android devices
ModelTalker voices are now compatible with the Android Speech TTS API. Your voice can be installed as the system default voice, and/or used by many Android Text to Speech applications.