What is ModelTalker?
The ModelTalker System is a revolutionary speech synthesis software package developed by the Nemours Speech Research Laboratory and designed to benefit people who are losing or who have already lost their ability to speak. It allows people who use a Speech Generating Device (SGD) to communicate with a unique personal synthetic voice that is representative of their own voice.
To learn more, see the FAQ section under Help, or select Build Your Voice to get started right away!
News
Important information for Mac Users
There was a bug discovered in the latest release of Chrome for Mac OS X (and maybe other operating systems) that prevented playback from working on our training pages where users test the background silence level and record a test sentence. We believe we have worked around this issue by changes to the way playback is handled so it should work for everyone now. If you previously experienced this problem, you may need to flush old copies of the affected pages from the Chrome cache. One way to do that is to hold down the shift key while refreshing each page.
Important information on Logitech G430 microphones
We have recently encountered a number of users with Logitech G430 headsets who are experiencing problems with unacceptable microphone audio. This is a problem we have now also replicated in the laboratory on Mac computers, with the microphone input varying suddenly in amplitude. Our recommendation is presently to avoid purchase/use of the Logitech G430 for Mac users. We are not sure if this may also be a problem for Windows users, but it may be best to avoid that microphone headset entirely.
New Study on Speech Technology for Children with Cerebral Palsy
We are launching a new study as part of our Clinical Speech Technology Program! The goal of the study is to provide personalized synthetic voices to children with cerebral palsy and demonstrate the benefits to these children of having a voice of their own. For more information and details on participant recruitment, click here.
We are also actively seeking voice donors to build a synthetic voice with us that we can then personalize for a child with cerebral palsy to use in his/her SGD. If you live in the Delaware/Maryland/Pennsylvania area and have a child between the ages of 9-15 who would like to donate his/her voice, please email us for more information.
ModelTalker comes to the iPad
The UK-based company Therapy Box is working with us to bring this new technology to the forefront! Implementing ModelTalker voices into usable solutions is a brand new and unexplored field that has wider implications than someone just being able to use an app to communicate. Predictable 4 and ChatAble 2 will be the first iOS apps to utilize ModelTalker voices for AAC, greatly influencing the lives of those with communication difficulties. For more information about Therapy Box and these apps, click on the icons below.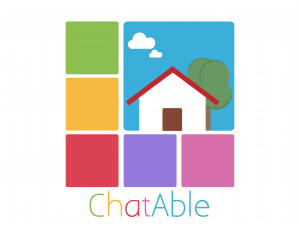 Support for Mac OS X
You can now choose to download your ModelTalker voice for Apple computers running OS X 10.5 or newer. Your voice will be installed as a system voice that you can select from the System Preferences Dictation & Speech control panel.
Support for Android devices
ModelTalker voices are now compatible with the Android Speech TTS API. Your voice can be installed as the system default voice, and/or used by many Android Text to Speech applications.